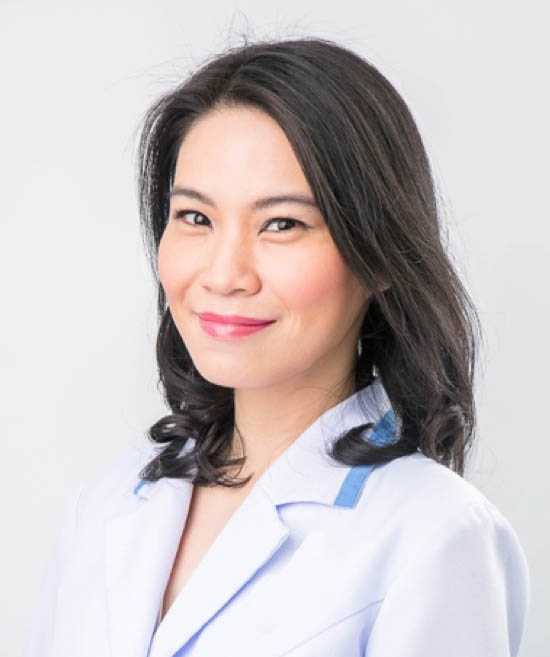 Dr Ratchathorn Panchaprateep
Dr Ratchathorn Panchaprateep is a clinical instructor in Division of Dermatology, Department of Medicine, Chulalongkorn University, King Chulalongkorn Memorial Hospital, Bangkok, Thailand.
She earned her medical degree (First Class Honours) followed by her Masters and PhD in Dermatology from Chulalongkorn University.  Her PhD research focus was on hair follicle stem cells and hair regeneration.  She completed her Clinical Fellowship in Dermatologic Surgery at Ramathibodi Hospital, Mahidol University and was a Visiting Fellow at the Dermatology, laser and vein specialists of the Carolinas, Charlotte, North Carolina, USA.  She also completed fellowship in Hair Restoration Surgery from DHT Clinic (ISHRS).
Dr Panchaprateep is board-certified by the American Board of Hair Restoration Surgery as well as member of the International Society of Hair Restoration Surgery and the American Society for Dermatologic Surgery.
She has authored many medical papers and has presented a wide range of scientific presentations in the fields of hair restoration surgery, hair biology and disorders as well as laser and cosmetic dermatology.  She developed a novel method to improve efficacy of hair transplantation and the survival rate of hair grafts, such as the use of nourished stock solution and low level laser therapy in surgery.
In addition to hair restoration surgery, hair diseases and a wide range of cosmetic procedures and laser treatments, Dr Panchaprateep has a special interest in autologous melanocyte transplantation and in novel treatments for challenging diseases.